Armonia – Charter Bus Company in Japan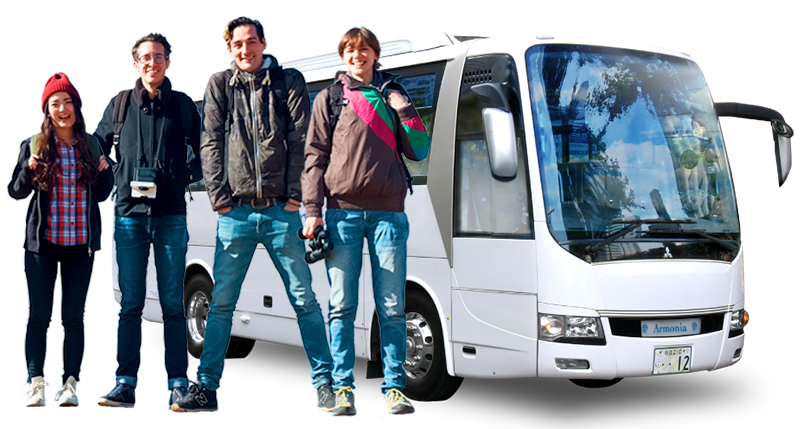 Travel Japan with Charter Bus!
Getting around to experience Japanese culture, history, nature, using a charter bus is easy! No need to worry about your luggage while you visit many different places.

You can just sit back and relax, and even have fun -- eating & drinking, playing games, etc. en route!

Please feel free to contact us for free estimate or any questions!
No need to read map!
Salon seat arrangement for Mid-size bus available.
Great safety record certified by government.
Areas
Shinjuku, Shibuya, Ginza, Shinagawa, Ikebukuro, Haneda Airport, Narita Airport, Tokyo
* Our operational areas are limited to the regions "to" or "from" Tokyo Prefecture.
Model Courses & Prices
* The price differs depending on the dates and other reasons.
Price:

44,000

yen
Distance:

80

km
Hours:

2

hours

Narita Airport 20:30
Shibuya Tokyu REI Hotel 22:30

Price:

43,000

yen
Distance:

30

km
Hours:

2.5

hours
Haneda Airport 13:30
Tokyo Big Sight (on Hold)
Shinjuku Keio Plaza Hotel 16:00
Thank you for your interest on chartering a bus with us.
Please fill in the form below to receive a free estimate.
We will get back to you by Email as soon as possible, hopefully within 2 -4 business days.


【Armonia – Charter Bus】http://armonia.co.jp/
 TEL: 03-6304-7081 (Mon-Fri) 9:00~18:00 JT
 FAX: 03-6304-7082
 E-mail: yoyaku@armonia.co.jp
 Address: 4-13-1 Eifuku, Suginami-ku, TOKYO 168-0064, Japan